Large-screen truck satnav
Premium 7" truck satnav with powered magnetic mount and free lifetime map updates1
Custom truck routing2 for the size, load and weight of your truck plus alerts for upcoming bridge heights, sharp curves, steep gradients and more
Includes free live traffic via Digital Traffic or Smartphone Link and Live Services with the free Smartphone Link app3
Easy Break Planning with timely notifications plus a Truck & Trailer Services directory, searchable by brand or amenity (e.g., "DKV" or "showers")
Control dēzl™ 780 with your voice, and enjoy Bluetooth® hands-free calling4, smart notifications3 and built-in Wi-Fi® for easy map and software updates without a computer
Dispatch and Track allows dispatchers to easily text messages and addresses to their drivers and even track drivers' routes from beginning to end
For "Large Goods Vehicle" drivers who want a big-screen satnav to match, our dēzl™ 780 LMT-D GPS truck satnav with its 7" touchscreen is the ideal road companion. In addition to its premium mapping, voice-controlled navigation and advanced connectivity features, it comes with a powered magnetic mount for secure attachment and easy removal when you exit the cab. Stay connected, alert and on track for the long haul with dēzl™ 780 LMT-D
To help you make the most of its high-resolution, pinch-to-zoom display, dēzl™ 780 LMT-D comes preloaded with maps that also include truck-related route warnings — such as bridge heights, sharp curves, steep grades and more — for most major roads and highways. Just enter your vehicle profile information (customisable by height, weight, length, width and hazardous materials), and find truck-preferred routes suitable for the size, load and weight of your truck2.
Customised truck routing
dēzl™ 780 has detailed maps for Europe that include truck-related restrictions – like bridge heights, dangerous curves, weight limits and more – and related information for most major roads and motorways. Just enter your vehicle profile information (customisable by height, weight, length, width and hazardous materials) and find truck-preferred routes suitable for the size, load and weight of your vehicle. For added convenience, the Simple Truck Profile lets you easily swap trailer sizes with the touch of a button.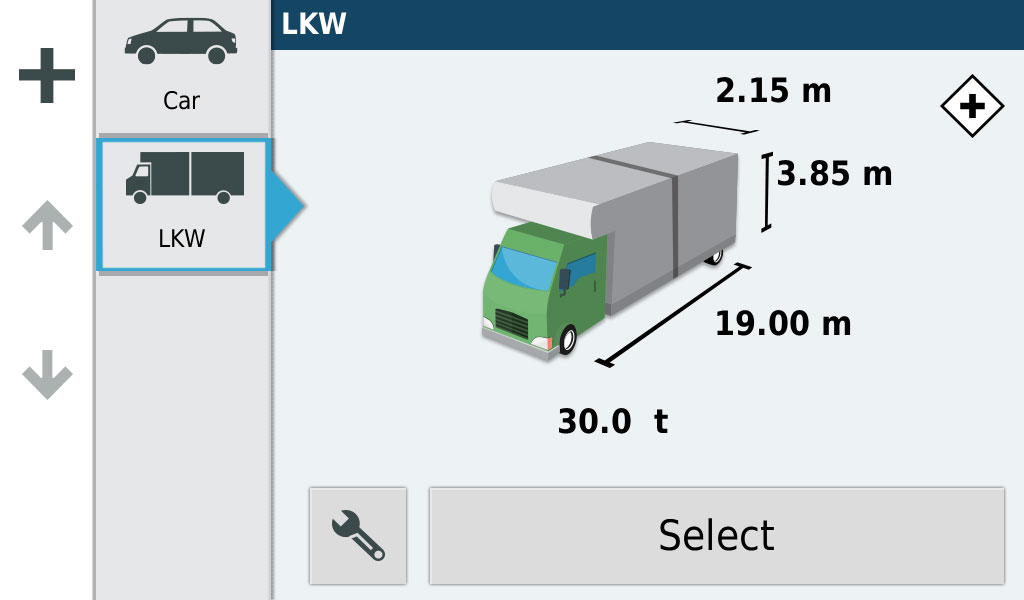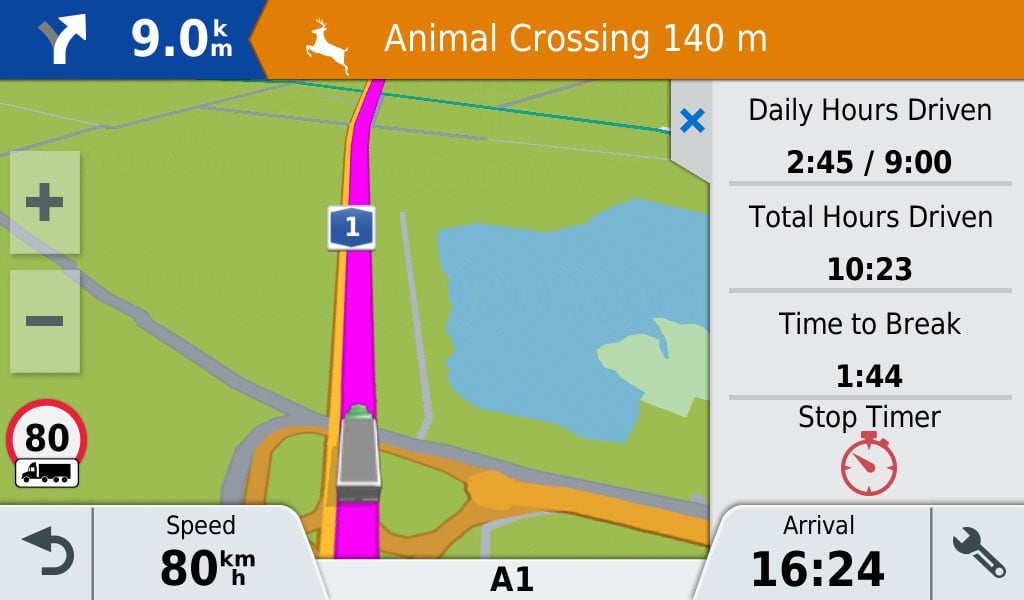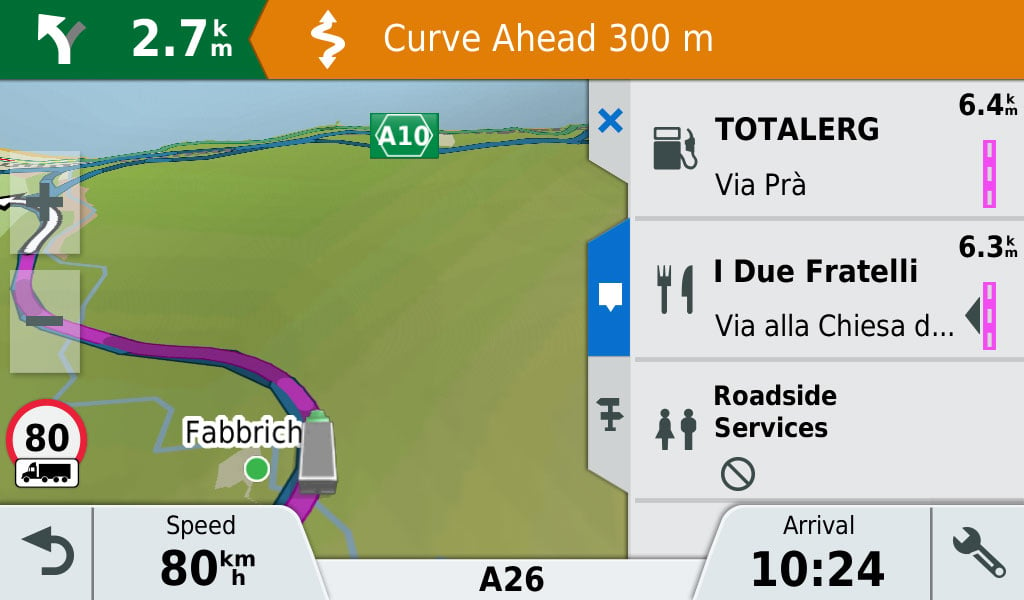 Free live services
What's happening on the road ahead? Smartphone Link is a free mobile app that connects your dēzl™ 780 with your iPhone® or Android™smartphone. When paired, your dēzl can access real-time information3such as traffic, safety cameras, weather Information and more.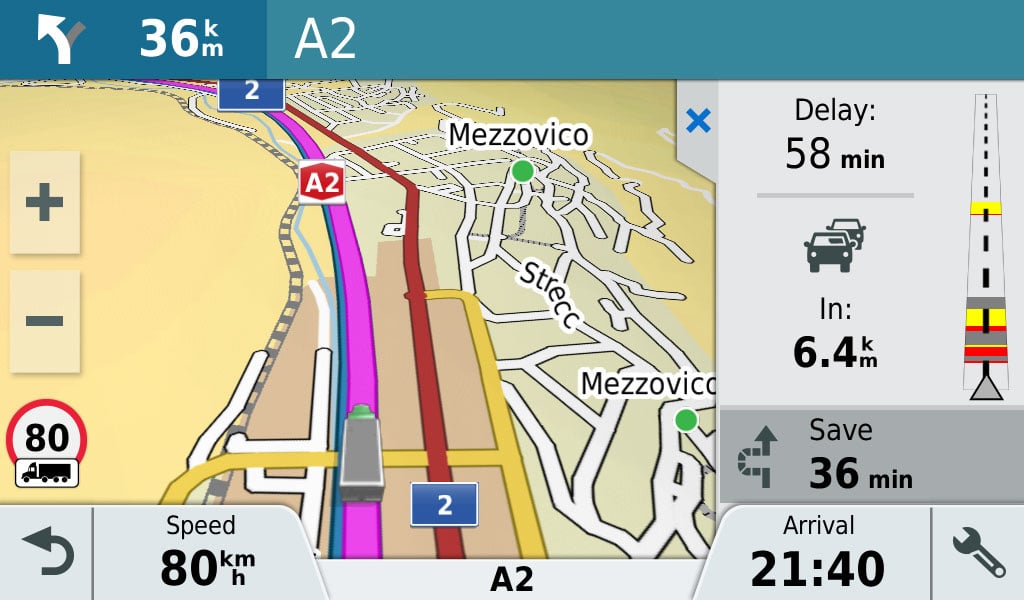 Command with your voice
The convenience of voice-activated navigation lets you control your dēzl™ 780 LMT-D truck satnav with simple voice commands, so your hands can stay on the wheel — while your eyes remain safely focused on the road.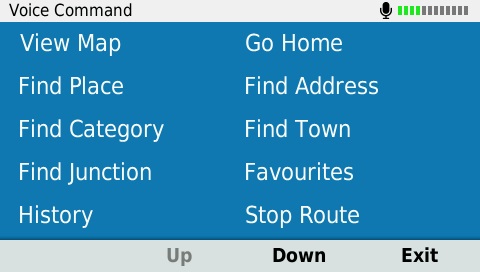 Built-in Wi-Fi keeps you up to date
It's easy to keep your maps and software up to date because dēzl™ 780 features built-in Wi-Fi. When a new update is available and you're connected to a Wi-Fi network, you'll automatically receive an on-screen notification. Then, you simply use the Wi-Fi on-screen button to update your data without needing to plug your dēzl into a computer. You'll be ready to hit the road again in no time.
The benefits of Bluetooth
Sync a Bluetooth-enabled smartphone or tablet to dēzl™ 780 for wireless calling through its integrated microphone and speaker. Stow your phone in your pocket or dashboard, and enjoy the benefit of hands-free calling without diverting your attention from the road. You can also receive customisable smart notifications4 for calls, texts, app alerts and more, which appear right on your navigation display.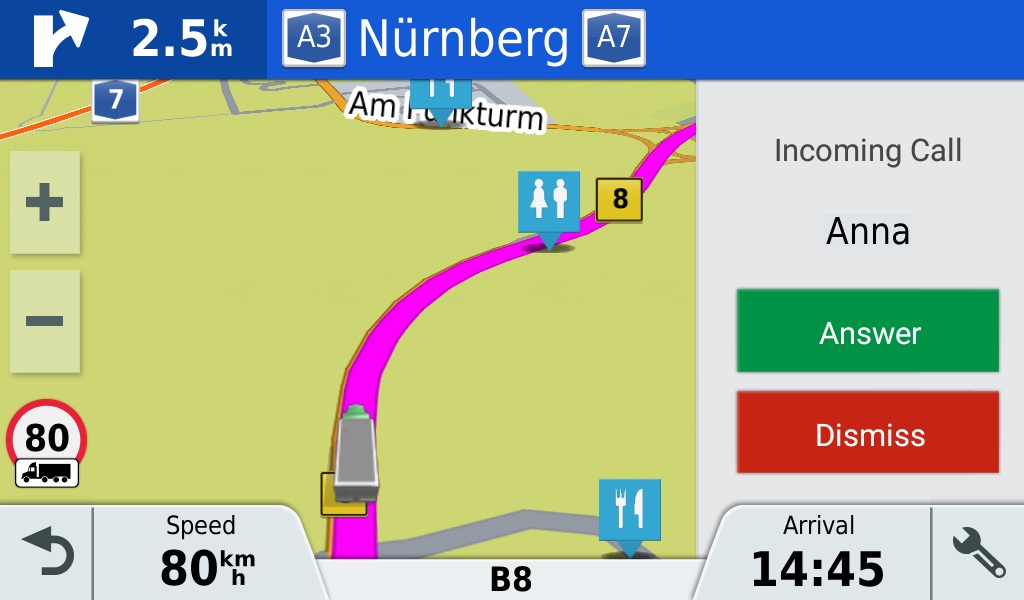 Easy break planning
To simplify life on the road, dēzl™ 780 truck satnav provides easy break planning with timely notifications that help make the most of each stop. Locate points of interest that professional drivers care about — such as food, fuel, rest areas, showers, ATMs, Wi-Fi and more. You can even search and filter truck stops by your preferred amenities, such as showers, fuel stations, Wi-Fi and truck wash.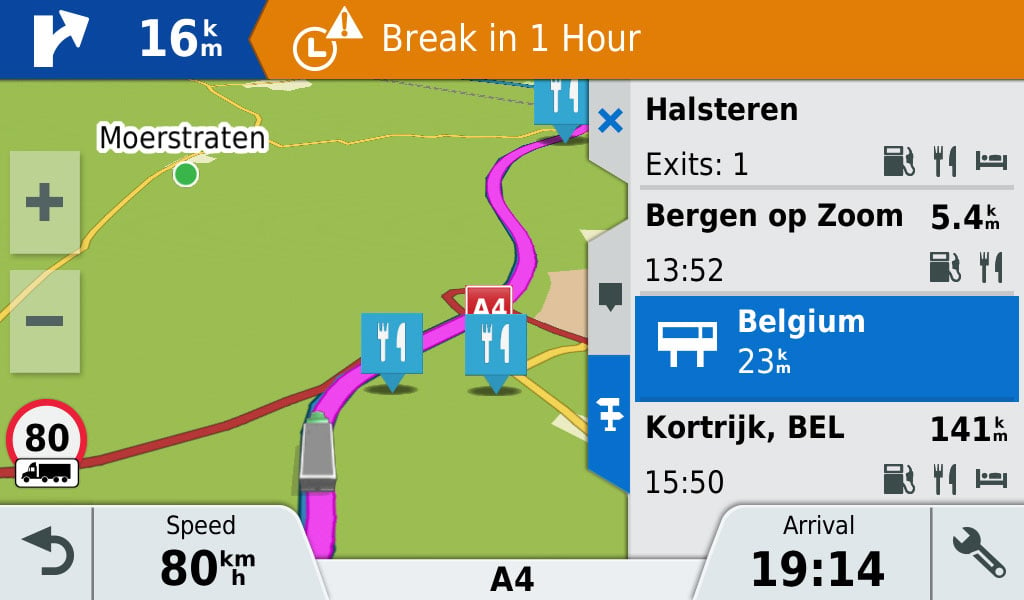 Service History Log
dēzl™ 780 also has an included Service History Log so you can record the dates and type of service performed. Conveniently keep track of tyre mileage, tyre pressure, oil changes, tyre changes and more.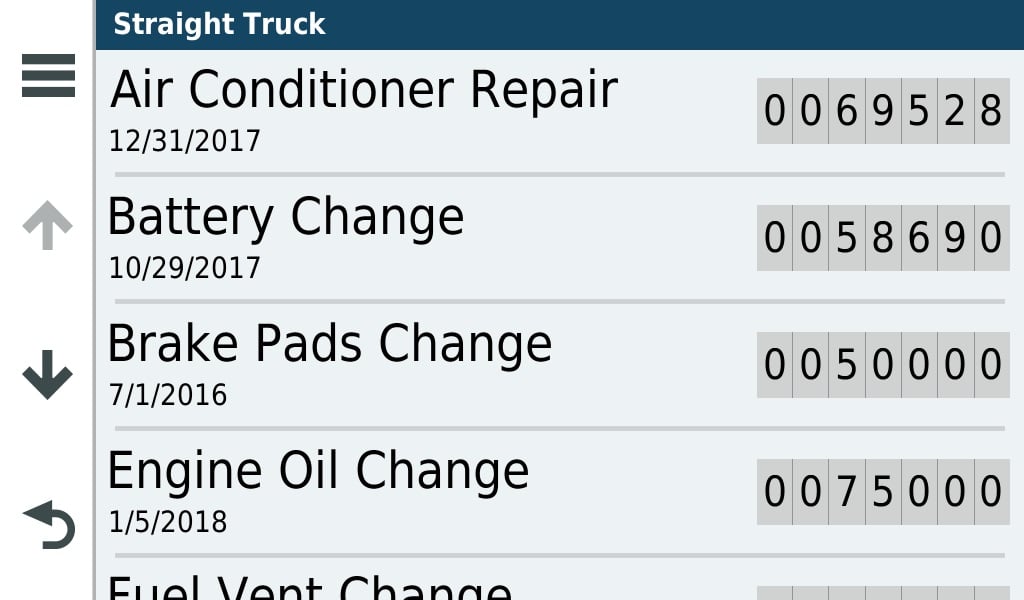 Dispatch and track
dēzl™ 780 comes preloaded with a simple truck monitoring solution3 that lets fleet operators easily track drivers and send communications, such as a text message containing a delivery address. Your driver can select the address from within the text message and seamlessly route to the destination.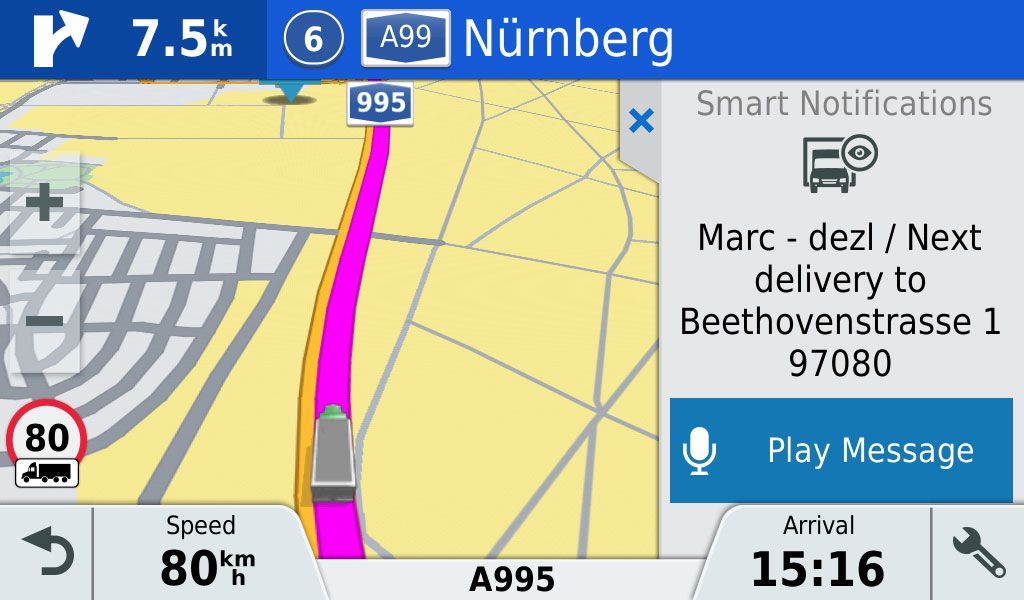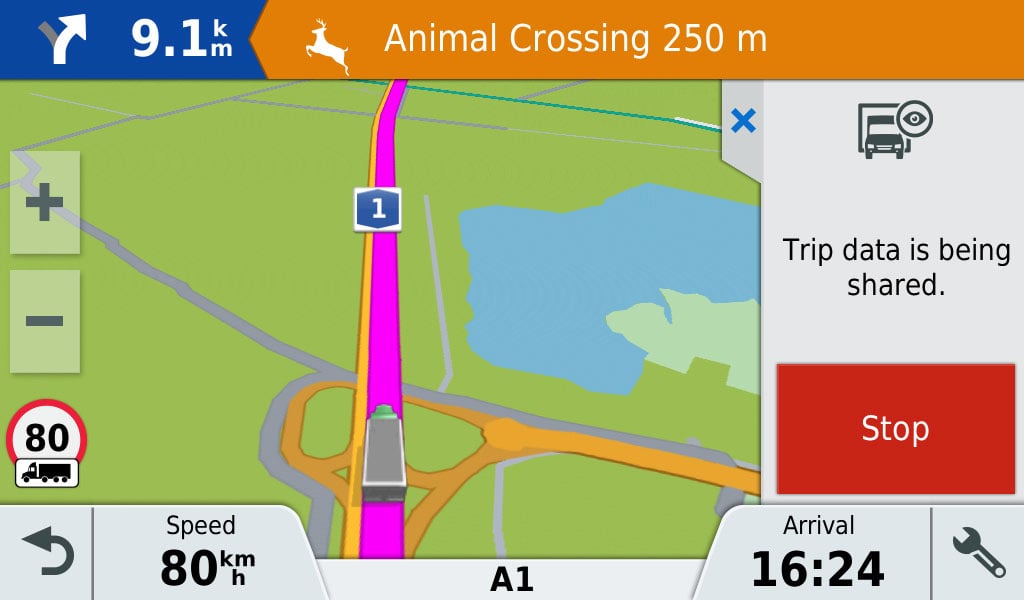 Add a Backup Camera
See what's behind your truck as you move in reverse by adding a Garmin backup camera (sold separately). The dēzl™ 780 truck satnav is compatible with the Garmin BC™ 35 wireless backup camera. When paired, dēzl shows transmitted footage, right on its navigation display.
Navigate with ease
In addition to its detailed mapping and big screen that can be easily seen across your cab, dēzl™ 780 comes equipped with extra-powerful speakers that deliver spoken turn-by-turn directions you can hear loud and clear, even over road noise.
An onboard Trip Planner lets you create multiple-stop routes and plan and save future trips. There's also Easy Route Shaping, which lets you add a point on the map just by touching the screen, so you can adjust your route to include preferred roads, cities or locations.
As you drive, Active Lane Guidance provides voice prompts and brightly coloured arrows on the display to indicate the proper lane needed for your next turn or exit. Full colour photoReal junction view displays realistic graphics of upcoming junctions to ease navigation through them. Plus, Bird's Eye junction view offers a detailed view of motorway junctions, looking down as if from overhead. The dēzl navigation screen also displays your current speed, the speed limit, the road or street you're driving on and your expected arrival time at your destination.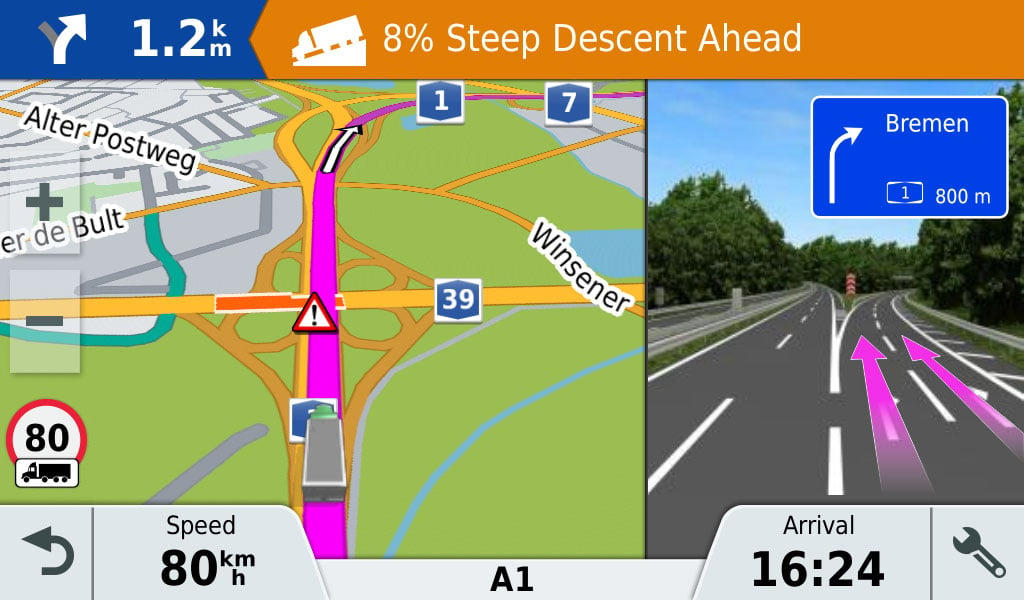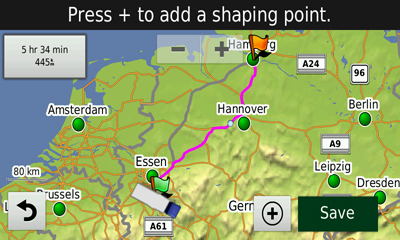 1Lifetime Maps Terms & Conditions
2Not available in all areas. Entering your truck's profile characteristics does not guarantee your truck's characteristics will be accounted for in all route suggestions. Always defer to all posted road signs and road conditions.
3To access Garmin Live Services, you must download the Smartphone Link app to your compatible Bluetooth® and GPS-enabled smartphone (sold separately)
4Requires Bluetooth®-enabled smartphone (sold separately)